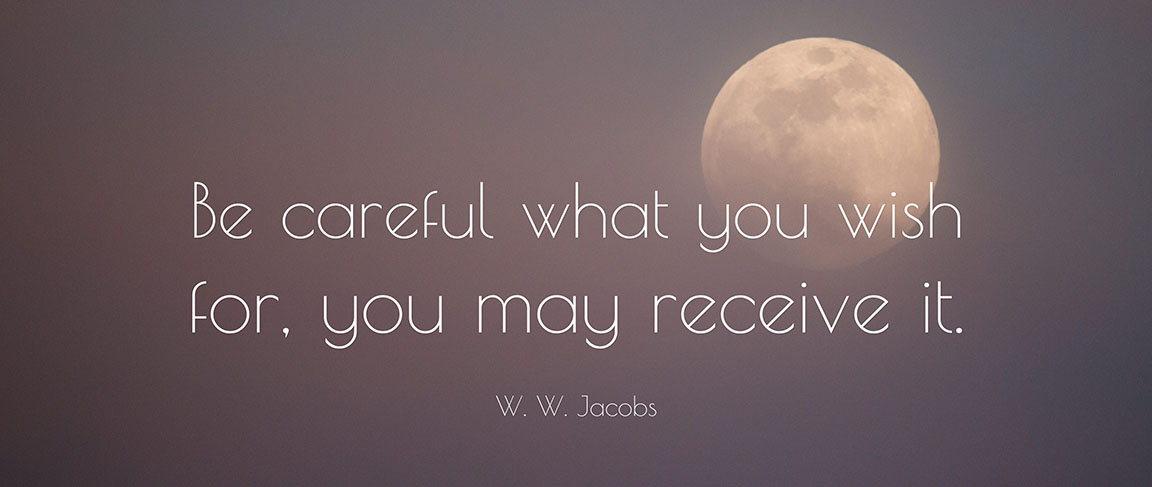 Be careful what you wish for…
This post was originally made on the ConnectionPoint blog November 27, 2008…
---
I little while ago I bemoaned out loud the lack of progress I was making at building out the technology for the FundRazr business concept and wished I could speed it up a litle.
Fast forward two weeks and I'm scrambling to stay in illusionary control of a software development team juggernaut that is rapidly outpacing my ability to keep them "fed" with development specs. It is a great example of "Be careful what you wish for – you may just get it. Then what???"
While I wouldn't take back my wish given the great results I'm getting I have to admit I'm feeling a tad out of control.
On the topic of powerful sayings, my father, George Hatton, contributed two great quotes to me this week that I feel are relevant to my current situation and the startup of this company:
"Dream no small dreams for they have no power to move the hearts of men" Johann von Goethe
"Make no little plans, they have no magic to stirs men's blood and will not be materialized. Make big plans; aim high in hope and work, remembering that a noble and logical plan never dies, but long after we are gone will be a living thing," Lila Bone
According to my dad: "The first one was paraphrased and used by Senator Donald Cameron, the founder of the Banff School of Fine Arts, and the Banff School of Advanced Management. The fine arts school is living proof of the statement as expanded by Bone for it truly is a living thing that exists long after Donald Cameron has passed on."
My dad was a director of the Banff School of Advanced Management when I was growing up and our infrequent trips to Banff while he attended Board meetings were a highlight of my early years. I knew at the time that we were being exposed, even vicariously, to something special and it broadened my horizons well beyond the "little city" of Regina where I grew up. The arts we experienced while on those trips (I'll never forget the Ballet Jazz Canadien and some of the photography I saw there) and the opportunity to do "unconventional" things like regularly attend the Regina Symphony while I was quite young have strongly influenced my ability to look at the world in different ways and therefore discover and develop new business ideas. I was a very lucky kid and hope to live my life as fully as possible to exploit the tremendous investment my parents made in me.
On that note, I have big plans for FundRazr and am actively pushing to expand my comfort zone so I can guide this idea to its fullest possible expression. I hope I can transfer some of my excitement around what I see is possible with this concept to others and enroll them in helping make the vision a reality. I need the help of many others to make my dream come true and therefore, here it comes, wish for all the help I can get.
Bring it on – I'm ready.
I hope…